Views from the Road
Here it is: Summer Ride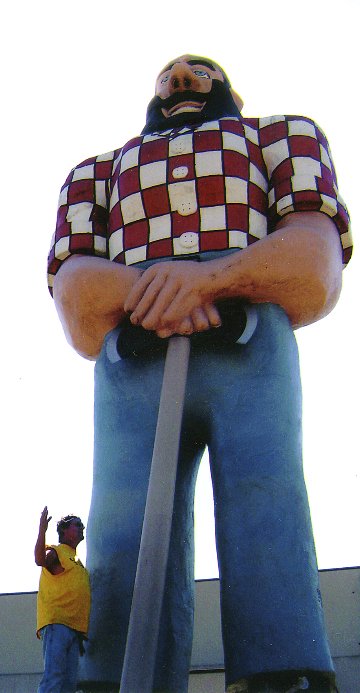 So after playing at the legendary Great Northern Brewery we made it back to Eureka for a night's rest at Emerson's. We liked the brewery even though the stage is down stairs and the patron's up. It is in sight of the Great Northern Railroad Station in Whitefish. My Grandpa Ben worked for that railroad in Brainerd Minn. From the time he was 12 years old until he retired at 65.
The next day we went into Canada to Fernie B.C. We played at the Brickhouse and found the audience very friendly and encouraging. Some one bought the first Subatomic Particles For Peace T shirt in Canada. Hooray! After a night in a motel ($105 Canadian) we went back to Montana. My suggestion is always allow plenty of time for crossing into the USA as they will search you likely as not.
That Sunday we were delayed a bit but made it to our afternoon concert at PattyAnn's Garden Party. Such a beautiful day and so wonderful to be looking at the lake and enjoying ourselves along with her guests. A real feature was that we had a whole day off Monday and we took it. I got up early and had some tires put on to Rosalita in the morning and we just sort of whiled away the day. I won my one dart game that night. Emerson and cousin Bruce are way too good for me. Wednesday we headed up to Pole Bridge. It's a tiny town on the edge of Glacier Park about 20 miles south of Canada. We met Cheryl and Michele who are friends of friends and we talked to the people at the Northern Lights. We set up a Guerilla Concert for the evening and then went into the Park and camped at Bowman Lake. Wow in the beauty zone. Plenty of ice was visible in the upper reaches of the mountains surrounding the lake. I had tried to book a gig at The Northern Lights but never really connected with the owner. However, Heather was very warm to us at our "free concert" Her son Griffin, 6 yrs old and precocious, got up and sang some of his own compositions. One to his brother was so moving. We had the luxury to talk with people after the show and even met someone who new my old friends Sam and Maggie from Austin who, years ago, spent a summer in Pole bridge. Small world. The next morning I took cousin Bruce's kayak out on the calm lake for a spin. It's a beautiful wooden boat. He has made others, too, including an all-wooden "drift boat". In his shop right now is also a wooden coffin. Anybody need one?
We stopped at the Great Northern on the way back to Eureka and were hired to play the 4th of July there. On the 3d we played Trapper's Saloon right up by the border. The manager. Rosario, sat in with us for a set on the bass. He also made a poster, which proclaimed me "National Singer-Songwriter from Austin. I like that. Then the Great Northern worked on Emerson's and my tour poster and made a special one for the 4th. We were done, then with the Montana portion of the trip. But on the fifth we went to friends of Emerson's for a dinner and we did a little show there. The people, Oscar and Sara, live in an off the grid house. Also visiting that night were Rita Collins formerly of Portland, a friend of Elisabeth's friends the Humans, and five people from the Czech Republic. Afterwards Rita suggested that we go to the Czech Republic and told me that she'd help promote and house us (or me) if that idea came to fruition. The next night we went to a song circle in Trego Mt. We met with the Czechs and Rita again. The circle was in a big room in house in a lovely valley. It was very nice music. Making friends and making music. There was a folk singer there named Alien. She and Emerson went for a walk, and then Em and I went to his house for my last night in Montana. Thoroughly trounced in darts again, it felt good to hit the hay early in anticipation of the trip home. Elisabeth had been on my mind more and more each day and, really, I was pretty anxious to see her. But we had one more show to do.
Emerson and I drove separate vehicles to Sandpoint Idaho where we set up for our show at Eichardt's. Then we traveled about ten more miles to the home of Lonny Hawkins where we would spend the night. We met Amy who had just returned from two years in Barcelona and we met Lonny and another friend, Tom. Before our show we went to Lonny's regular Tuesday night music circle for an hour or so. At Eichardt's we had a very nice time, a good audience, and we could really feel the cohesion of the music. 14 shows in 20 days will make any musician pick it up a bit. Afterwards we had a great light night repast of fish on the beach, played a few more songs and trundled off to bed at about 2:00. I slept outside and was up and on my way before 6am. I was back in Portland by early afternoon. Elisabeth came home early and we went out for Sushi. I love those little trains that carry the food around. Now I'm back to local gigs and house painting. I have begun doing shows at McMenamins and I'm very excited about that.
There were some Highlights and Low Lights of the trip
The Best & Worst
Emerson
Steve
Best Gig
Polebridge
Brickhouse
Worst Gig
Packer's
Packer's Roost, Coram
Biggest Thrill
The fun of it.
Coming out ahead $!
Biggest Disappointment
Losing those gigs
Favorite Scenery
Hell's Canyon
Lolo Pass from Idaho to Mt.
Favorite New People
Doug at the Silver dollar in St. Ignatius
Jiri from the Czech Rep. The Hawkins
Be Peace , Steve